---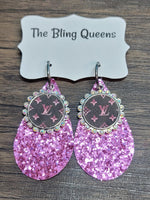 Pink Glittered Teardrop Earrings with Charms
Add these adorable earrings to your jewelry collection! 
Pink Glittered 3" Teardrop with a 
Black/Pink Faux Leather Silver Plated Round Charm Surrounded By Rhinestones 
Silver Plated 20mm Thicker Hoop Earrings 

These earrings are so versitale. 
Wear Just The Glittered Teardrop or Just The Rhinestone Charm!
These Earrings Do Have Some Weight to Them.
Handcrafted & Designed by "The Bling Queens"
Check Out all Our Other Handcrafted Earrings & Bracelets!

Pick Up Available In Itasca, TX